Established in 2008, Talent Intelligence focuses on competency training and consulting services that improve the performance and productivity of individual and organization. Our latest talent development framework allows us to predict the behavioural changes to drive business objectives and had successfully developed a substantial number of corporate professionals. As a well known HRDF training provider Malaysia, Talent Intelligence focuses on the skill-based training program that are measurable as this will allow you to know the ROI for every training dollar you have spent.
The New Earth is a team building program that is about a process of supporting a work group to operate in a team-oriented environment that is characterized by such philosophies  as shared purpose, shared values, shared vision, shared mission and a performance development system that enables people to grow both personally and professionally. This program is designed to give participants a distinct advantage over other organizations that don't believe in Team Power and Transformation. The program creates awareness for teamwork and has participant devoted to achieving self-empowerment as individuals and as a team to reach new heights and create new paradigms in working relationship. These make Talent Intelligence be the best Team Building in Malaysia.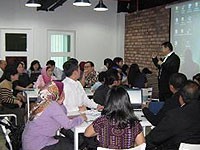 To achieve success, technical professionals must have strong and flexible interpersonal and communication skill training in addition to their competencies and abilities. Whether you're an IT professional, engineer, scientist or researcher, communicating with others, both technical and nontechnical professionals is an essential part of the job. Our interpersonal and communication skills workshop, will give you the interpersonal and communication tools you need to ensure mutual clarity and understanding when dealing with others, so you can maximize all you business interactions and achieve your critical goals.
Collaborative Leadership Development Programme is highly interactive workshop that is designed to create a high performance workplace. Team performance is critical to contribute for organization success. The workshop reveals team dynamics in a way that has never before been possible, enabling individual team members to understand how their own behaviours contribute to or obstruct team objective.  The mechanism behind the program is the HA Paradox Technology provides manager with a clear understanding of their own behaviours that will enable them to reduce turnover and become more effective team members and leaders. Talent Intelligence will make sure all the programs that been handling under Talent Intelligence is being improve through all the time to be the best Leadership Training Course Malaysia.
For more information about Talent Intelligence, you can visit our official website at http://www.talent-intelligence.asia.